Description
What are hammer toes?
Hammer toes are common and painful deformities in the three middle toes where they appear to always be bent.
Causes:
The most common cause of hammertoe is a muscle/tendon imbalance. This imbalance, which leads to a bending of the toe, results from mechanical (structural) changes in the foot that occur over time in some people.
Hammertoes may be aggravated by shoes that don't fit properly. A hammertoe may result if a toe is too long and is forced into a cramped position when a tight shoe is worn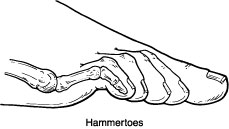 Features:
Single Toe Splints
Budin Toe Splints align crooked, overlapping or flexible hammer toes with elastic bands that gently guide deformed toes into place
One size fits Most
Ideal for post-op use
Soft, durable, cotton covered
Washable
Interchangeable right or left foot
They encourage flexing and extension of toes to prevent fixation & rigidity
Soft cushion protects ball-of foot
Reduces rubbing between toes
Soft elastic loops Guide Deformed Toes into place
Effective Post-Operative splint to Speed Healing
Customer Questions & Answers:
When should a Budin toe straightener be used?
Toe splints can be used on a daily basis or to help toes heal after surgery
Who should not use a Budin toe straightener?
Individuals with diabetes should not use a toe straightener without first talking to their physician. Diabetes can cause poor circulation in the feet, so any type of restrictive devise is not recommended without your physician's consent
What Is Hammertoe?
Hammertoe is a contracture (bending) of one or both joints of the second, third, fourth, or fifth (little) toes